Who makes the news? Late 17th-century Europe was as obsessed with the spread of information as many of us are in the 21st century. For kings, queens, and aristocrats, effective courting of public opinion could mean keeping a throne. Failing to win the support of the public could mean losing a throne. For statesmen, diplomats, and others who mingled and moved at the royal level, access to information was a gateway to influence and a barometer of status.
In 1688, the Catholic King James II of England was replaced by the Protestant King William III and Queen Mary II without a full-scale war, in a series of events known today as the Glorious Revolution. Rumors of Royalty brings together English printed material and the private newsletters, or avvisi, of a Florentine diplomat to tell that story through the words of those who were documenting a revolution.

The Florentine Correspondent

The scion of a Florentine mercantile family, Francesco Terriesi (1635-1715) arrived in London in the Spring of 1668, where he would reside for most of the following twenty-one years. There, Terriesi played a key role in the establishment of a chartered Florentine merchant house, giving traders from his homeland direct access to the British markets. In 1670 Terriesi started to work as an unofficial agent of the Florentine government after meeting Grand Duke Cosimo III de' Medici during the English leg of the Duke's European grand tour. Terriesi sent detailed and insightful weekly reports to the Duke and the state secretariat, which supplemented those sent by the official Tuscan agent in London.
He would not occupy any official diplomatic post until his return to London from Florence in 1678 as the new official Florentine agent. Throughout his stay in London–before and after his official appointment–Terriesi would send a steady flow of letters and avvisi, or newsletters, to Cosimo III and the First Secretary of State Francesco Panciatichi. His weekly dispatches consisted of a short complimentary letter to Panciatichi, followed by a detailed and minutely-written report narrating the main events of the past week. Often, Terriesi attached printed material to fill out his narrative, such as copies of the London Gazette and other pamphlets and printed sheets. In composing his avvisi, Terriesi relied on his extensive network of contacts at King James II's court and in the London merchant and diplomatic communities, as well as on professional newswriters like the prominent Whig propagandist Giles Hancock.
Terriesi's avvisi offer a unique perspective of a Roman Catholic diplomat on the world of Restoration England from the heyday of Charles II's rule to the crisis of succession in the late 1680s and the ensuing Glorious Revolution. The Florentine resident was not just a witness of events, but a player–albeit a minor one–who actively supported James II, and who, at the height of the anti-Catholic riots in London in December 1688, saw his house in Haymarket Square ransacked by the mob.
While Cosimo III's tacit acknowledgement of William III's place on the English throne permitted highly profitable commercial exchanges between Tuscany and England to continue after 1688, the diplomatic relations between the two rulers broke down. Terriesi left England in March 1691 to become the Provveditore della Dogana, or Head of Customs, in Livorno.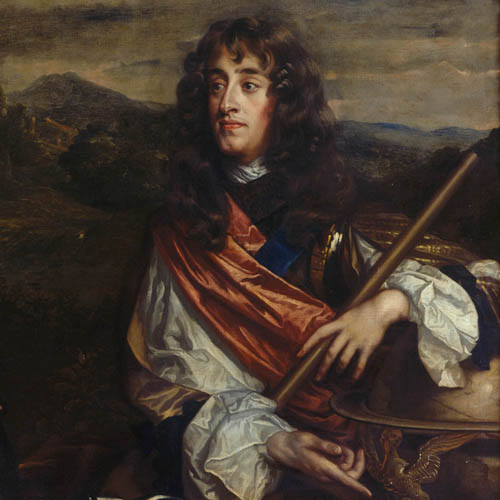 King James II, King of England, Scotland, and Ireland
Second surviving son of King Charles I, younger brother to King Charles II. Lord High Admiral for Charles II during the Anglo-Dutch wars of the 1660s and 1670s. Practicing Catholic from about 1670, openly so after 1676. Ascended the throne in 1685 when Charles II died without any legitimate heirs.
Sir Peter Lely, James II, when Duke of York with Anne Hyde, Princess Mary, later Mary II and Princess Anne, RCIN 405879, Royal Collection Trust.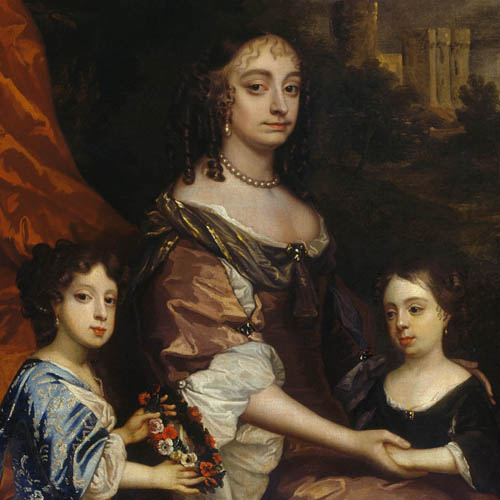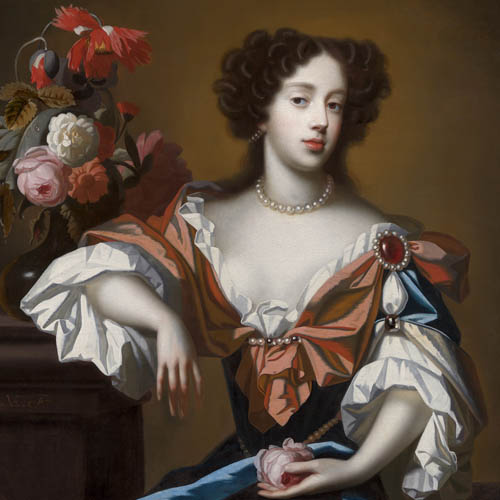 Mary of Modena, later Queen Mary

Second wife of King James II. Devout Italian Catholic. Had intended to enter a convent before being persuaded (by the Pope!) to marry James in 1673. Fertile (she conceived at least six or seven times before 1685), but either miscarried or lost the children in infancy. Not exactly inspiring odds for those hoping for an heir.
Simon Verelst, Mary of Modena, B1979.19 , Yale Center for British Art, Paul Mellon Fund.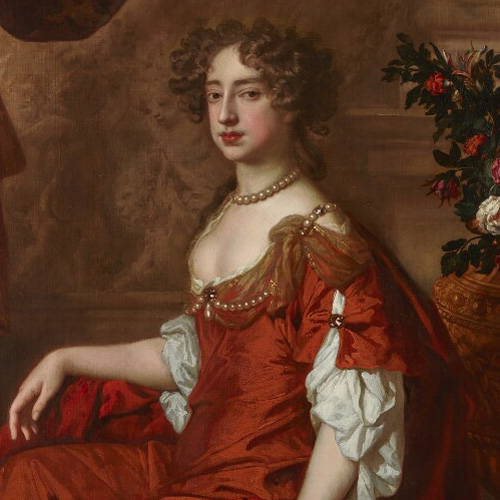 Mary Stuart
Eldest surviving daughter of King James II and Anne Hyde. Mostly raised apart from her parents and educated by the bishops of Winchester and London, to avoid any possible question about her faith. Married to the Dutch Prince of Orange, William (who was also her cousin, by way of her paternal aunt).
Sir Peter Lely, Queen Mary II, oil on canvas, circa 1677. NPG 6214, © National Portrait Gallery, London.
Anne Stuart
Second surviving daughter of King James II and Anne Hyde. Devoutly Anglican. Married to Danish Prince George, but no surviving children before 1688 (this becomes important). After James's ascension, Anne's household became the anchor for the high ranking Protestants in England. Rejected all attempts to convert her to Catholicism.
Jan van der Vaardt & Willem Wissing, Queen Anne, when Princess of Denmark, 1665-1714, out of copyright, National Galleries of Scotland.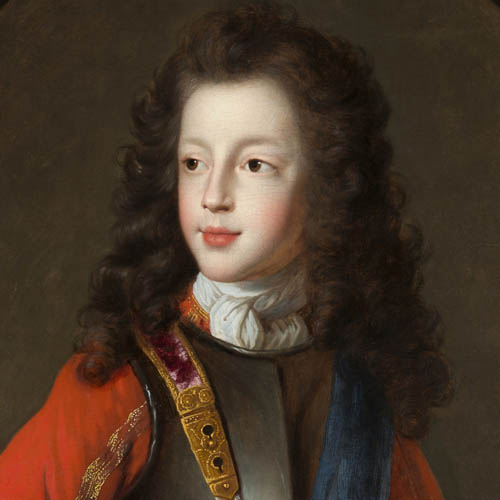 James Francis Edward Stuart

Son and heir to King James II and Mary of Modena. His conception and birth provided his half-sister Mary Stuart and her husband, William of Orange, with an opportunity to seize the English throne.

Attributed to Alexis-Simon Belle, Prince James Francis Edward Stuart (1688-1746), RCIN 401250, Royal Collection Trust.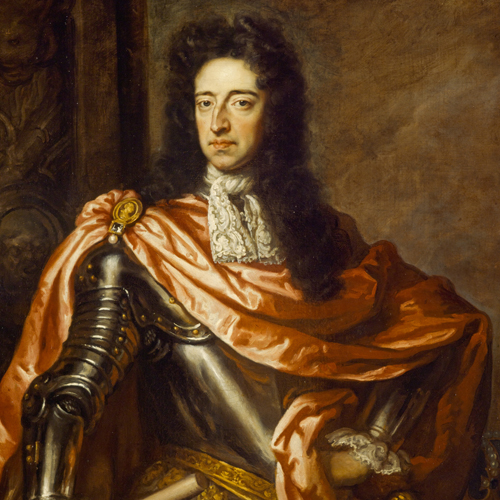 William of Orange
Nephew to King James II by way of his mother Mary, James' sister, who was married to the Prince of Orange. Married his first cousin Mary Stuart. Prince of the Dutch house of Orange, ruler for the United Dutch Provinces. Not particularly fond of either of his Stuart royal uncles. Spent most of the 1670s and 1680s avoiding becoming completely entangled in English politics.
Sir Godfrey Kneller, William III, 1650-1702, out of copyright, National Galleries of Scotland.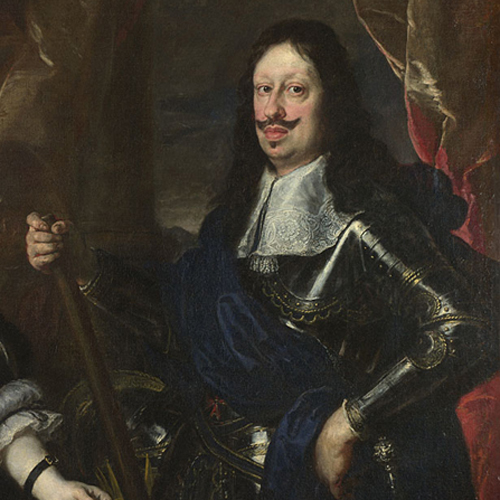 NEXT: Discover the half-century of English history that preceded James II's flight from the throne.