Shakespeare and the Churchill Family
Shakespeare and A History of the English-Speaking Peoples
Only Shakespeare has portrayed its savage yet heroic lineaments; and he does not attempt to draw conclusions. 
Churchill began writing A History of the English-Speaking Peoples in the 1930s, but put it on hold until after World War II. Shakespeare's works influenced his vision of the Elizabethan era, while his experience of two world wars shaped his accounts of more recent events.
Churchill's four volumes of A History of the English-Speaking Peoples, published between 1956 and 1958, were popular in both England and the United States. Although Churchill received help and advice from various historians, the large scheme of the history was his own. After setting the scene, he would fill in the details, writing of his method: "if facts are lacking, rumour must serve." As Churchill wrote about the early English kings and the reign of Elizabeth I, it is obvious that he had Shakespeare's history plays in mind. It is also clear that his reactions to events of the past were colored by his own experiences through two world wars. For example, he describes Henry V building up the Royal Navy, a subject dear to his own heart, having been First Lord of the Admiralty twice, at the opening of both World War I and World War II. Though today we may fault Churchill for ignoring parts of the English speaking world other than Britain and North America, in style and appeal the work is still good popular history.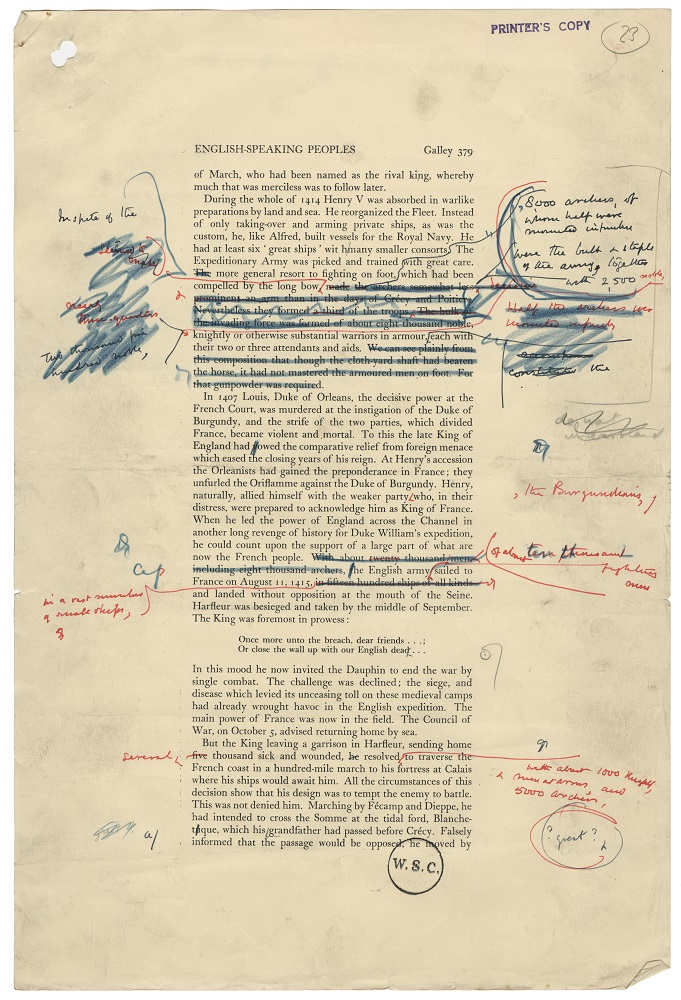 Corrected galley proofs of "A History of the English-Speaking Peoples"
While writing about the siege of Harfleur in France by English King Henry V in 1415, Churchill uses lines from Shakespeare's play to describe the king's prowess: "Once more unto the breach, dear friends …/ Or close the wall up with our English dead…" (HENRY V ACT 3, SCENE 1, LINES 1-2). Churchill corrected the document in red pen.
(CHUR 4/404A/23. Churchill Archives Centre © The Estate of Winston S. Churchill)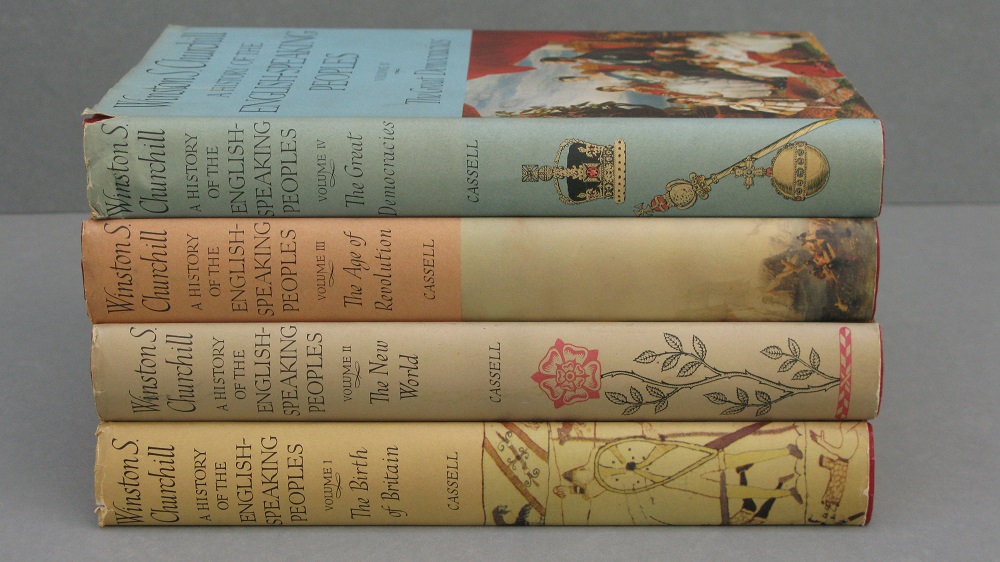 A History of the English-Speaking Peoples Vol. 2: The New World London: Cassell, 1956
The Coronation of Queen Elizabeth II in 1953 inspired a 'New Elizabethan' revival which Churchill was keen to exploit. Writing of the English defeat of the Spanish Armada in 1588, Churchill notes "Shakespeare was writing King John a few years later. His words struck into the hearts of his audiences: "Come the three corners of the world in arms,/And we shall shock them. Nought shall make us rue/ If England to itself do rest but true" (KING JOHN, ACT 5, SCENE 7, LINES 122-124).
(LIB 12. Churchill Archives Centre)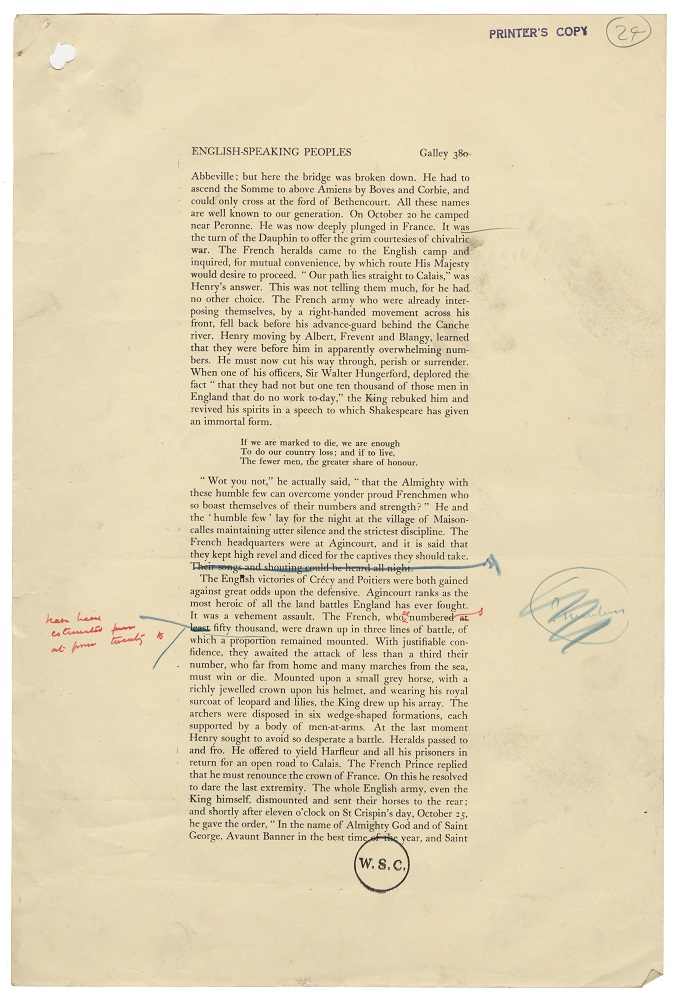 Corrected galley proofs of "A History of the English-Speaking Peoples"
As Churchill describes Henry V's preparations to meet the French at Agincourt, he quotes from Shakespeare's play: "If we are marked to die, we are enough/ To do our country loss; and if to live,/ The fewer men, the greater share of honour." (HENRY V ACT 4, SCENE 3, LINES 23-25) In Churchill's estimation, "Agincourt ranks as the most heroic of all the land battles England has ever fought."
(CHUR 4/404A/24. Churchill Archives Centre © The Estate of Winston S. Churchill)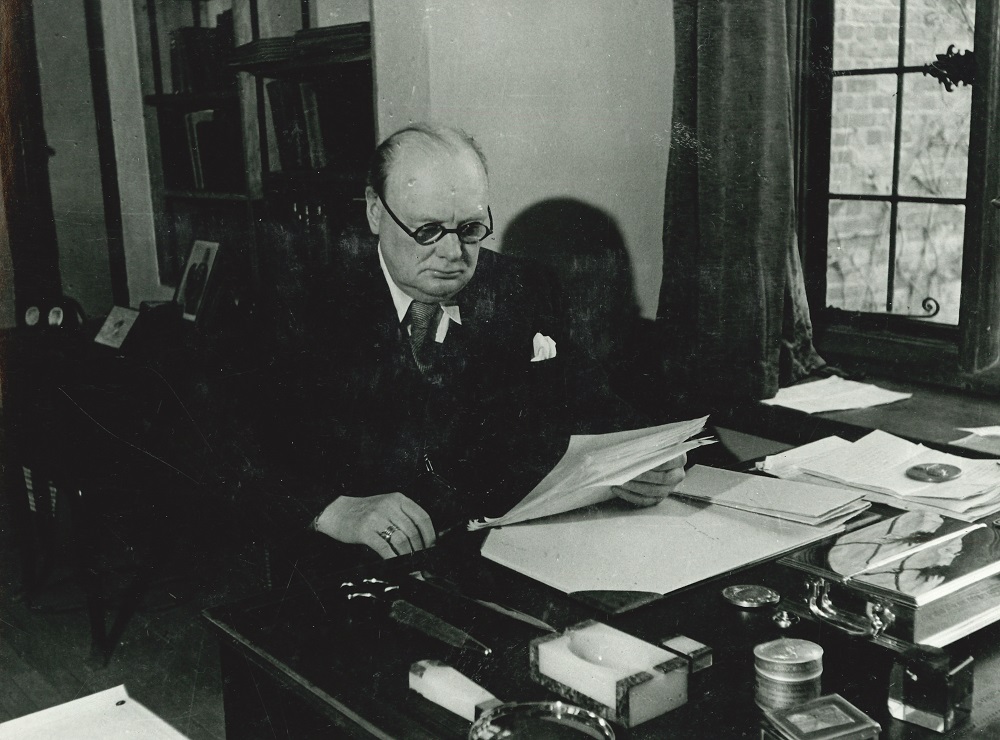 Winston Churchill at his desk at Chartwell, 1939
(CHPH 12 F1 2A. Churchill Archives Centre)
My Father's Ghost: Winston, Randolph, and John Churchill
I'll call thee 'Hamlet'/ 'King,' Father,' 'Royal Dane.' Oh, answer me! 
Act 1, Scene 4, Lines 49-50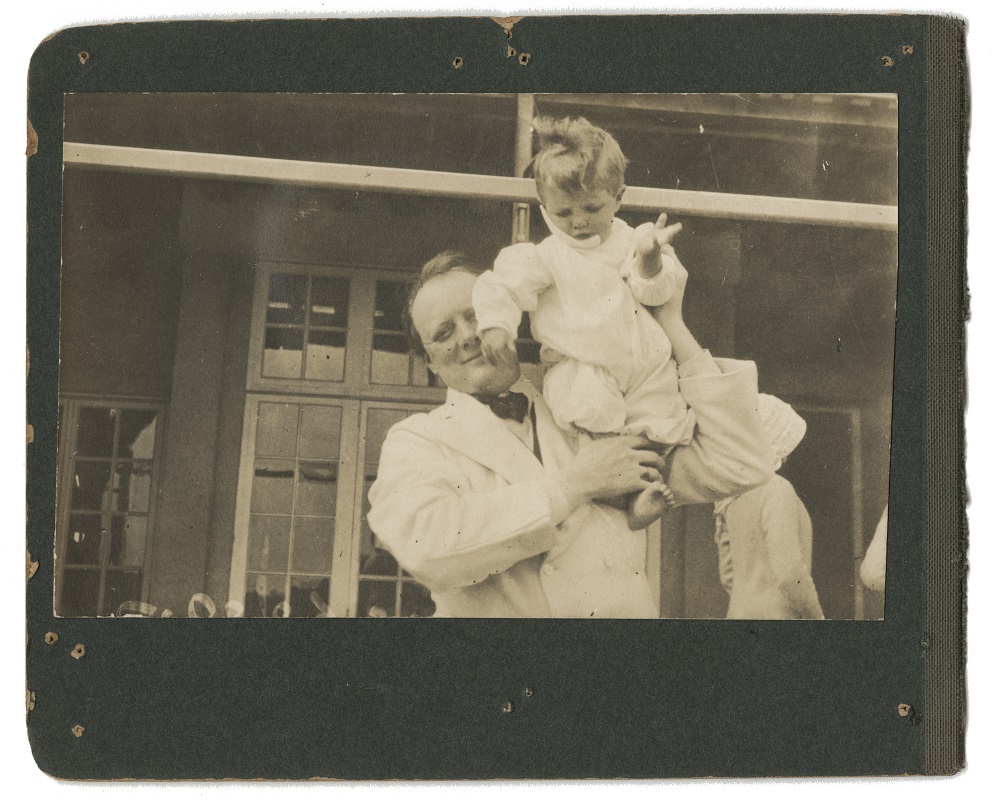 Though Churchill did not see much of his father while growing up, he admired him immensely. To commemorate his father's influence in his life, Churchill wrote the story "The Dream," with a nod to Hamlet's encounter with his father's ghost.
The high drama of the moment in Hamlet when the Prince sees his father's ghost on the castle rampart was echoed in Churchill's own life as he was copying a damaged portrait of his father in 1947. At the time, he wrote a short story for the family titled "The Dream": "I was drawing my father's face, gazing at the portrait … I turned round with my palette in my hand, and there, sitting in my red leather upright armchair, was my father. He looked just as I had seen him in his prime…."
The ghost's appearance symbolizes the extraordinary bond between Churchill and his father, whom he considered "the greatest and most powerful influence in my early life." Churchill saw himself as part of a long family line stretching back to their common ancestor John Churchill, Duke of Marlborough (1650-1722). Churchill wrote major biographies of both his father and the Duke of Marlborough.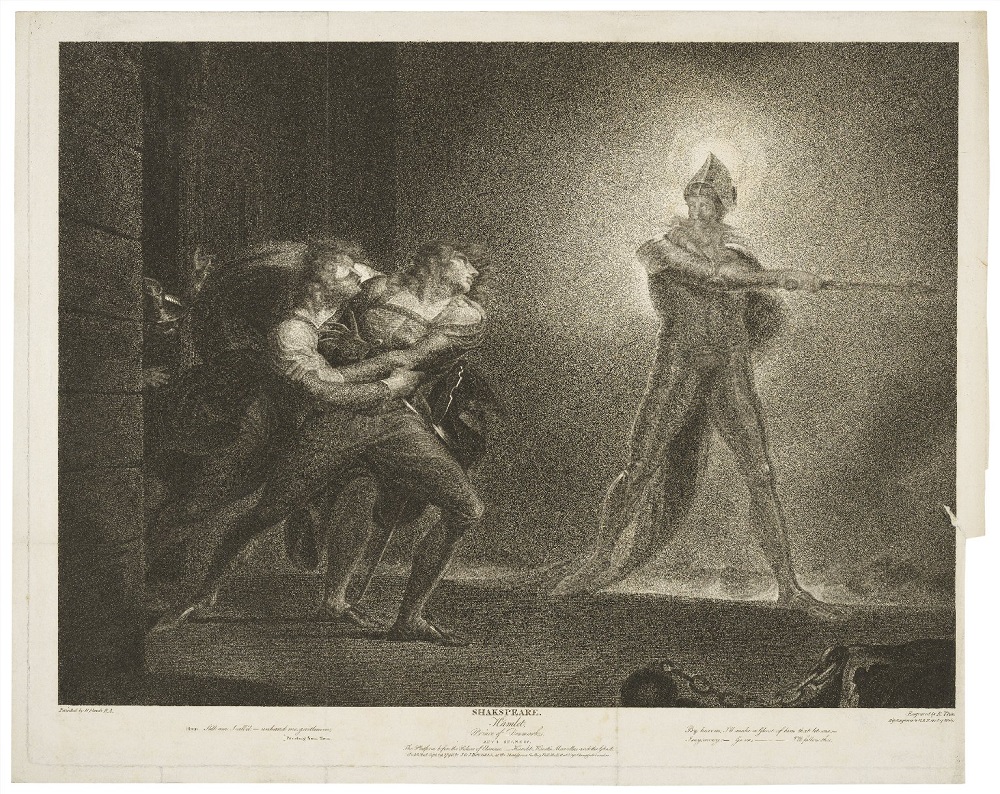 Hamlet, Horatio, Marcellus, and the Ghost
Henry Fuseli's painting of Act 1, Scene 4 of Hamlet, engraved by Robert Thew
(ART File S528h1 no.159 (size XL). Folger Shakespeare Library)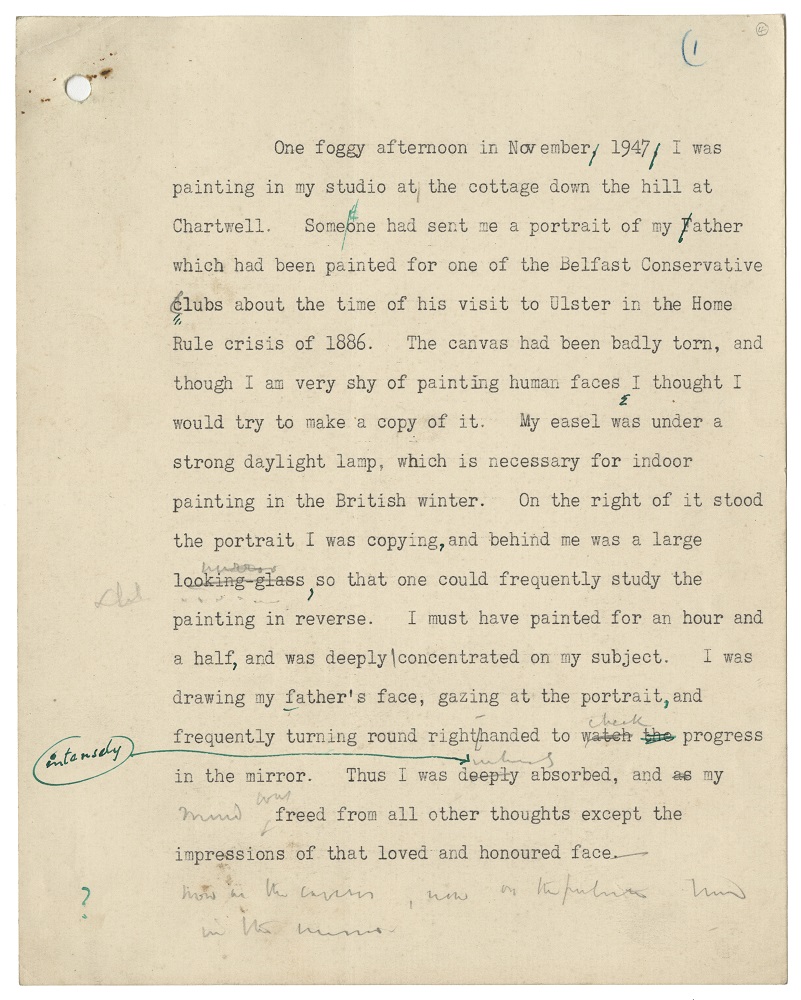 The manuscript of "the dream"
This is the first page of Churchill's account of copying a portrait of his father, then seeing his ghost appear.
(BRDW V 2/9/4. Churchill Archives Centre © Broadwater Collection)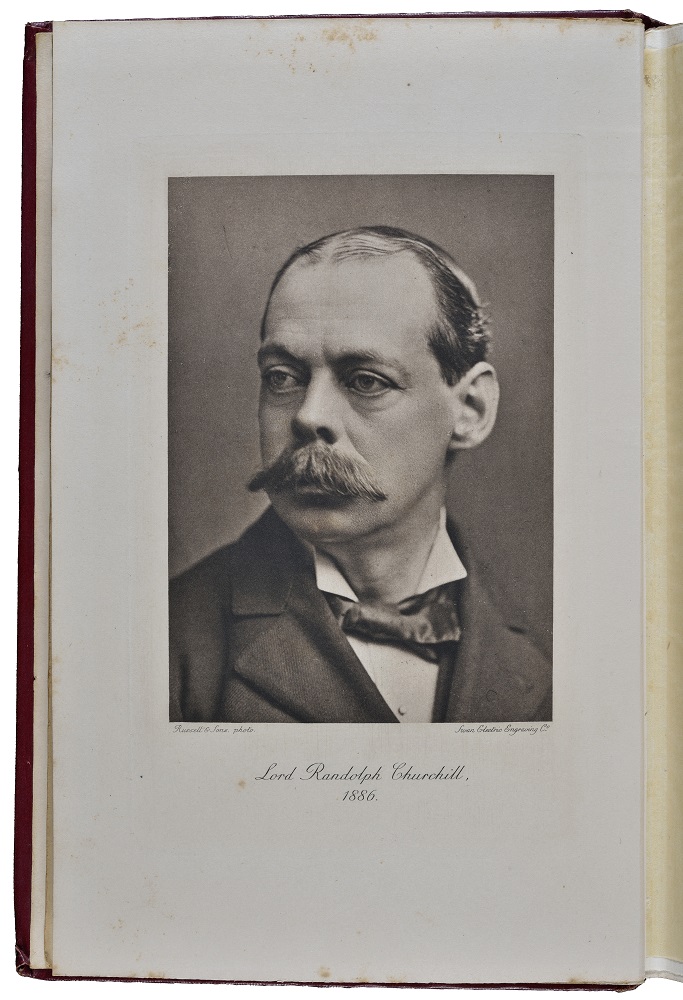 Lord Randolph Churchill, Vol. 2; London: Macmillan & Co., 1906
Churchill wrote this two-volume biography of his father when he was in his early thirties, about ten years after Lord Randolph's death.
(LIB 40. Churchill Archives Centre)
Churchill meets his father's ghost
The Churchill Family and Shakespeare
I am reading Shakespeare to Diana and Randolph & they love it…"
Churchill's interest in Shakespeare dates back to his early days at school, and both he and Clementine enjoyed attending the theater throughout their lives. They were less enthusiastic when their second daughter, Sarah, decided she actually wanted a career on the stage, but they came to appreciate her work. In 1953, Sarah starred as Ophelia with Maurice Evans as Hamlet in the Hallmark Hall of Fame television production of the play.
All members of the family were conversant with Shakespeare and regularly engaged his language. In March of 1918, Winston wrote to Clementine from the Ritz in Paris where he was staying while meeting with Prime Minister Clemenceau of France. He includes a quotation from Henry VI Part III and encourages Clementine to read the play, adding, "I think we ought to hold them [the Germans] for the time being, but a most formidable prolonged … struggle is before us."
Churchill family performances